2014-02-17 by The ODI
The ODI has announced five new international Nodes including the first two from the Asia Pacific region: Osaka, Seoul, Sheffield, Philadelphia and Hawaii. They will join the first raft of Nodes announced at the ODI Summit in October last year. The Nodes bring together companies, universities, and NGOs that support open data projects and communities.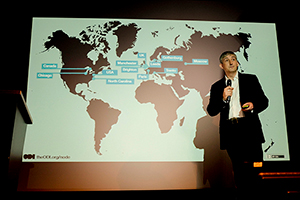 The launch of ODI Seoul builds on the signing of a Memorandum of Understanding(MoU) between the ODI and the National Information Society Agency (NIA) of the Republic of Korea in November 2013. The MOU marked a commitment to promote closer cooperation in the area of open data.
Since the ODI Summit where the Nodes programme was announced, the ODI has had interest from across the world from organisations wanting to become a Node.
This announcement of the new Nodes coincides with a gathering of all the current ODI Nodes in London.
Richard Stirling, International Director at the ODI said:
"The open data movement continues to gain momentum across the globe – our five new Nodes are testament to this. We look forward to working alongside these new Nodes as they explore how open data can drive innovation, boost transparency and bring about social, economic and environmental benefits to their communities."
Each Node has agreed to adopt the ODI Charter, which is a open source codification of the ODI itself, and embodies principles of open data business, publishing, communication, and collaboration.
The creation of ODI Nodes around the world highlights how people are using the power of open to combine expertise and resources. Each Node will catalyse open data culture within their own communities and communicate open data success stories globally. City and regional Nodes will identify open data collaboration projects, and publish data relating to themselves and their work using open standards such as the ODI Open Data Certificate.