Open data efforts also backed by the Hawaii Community Foundation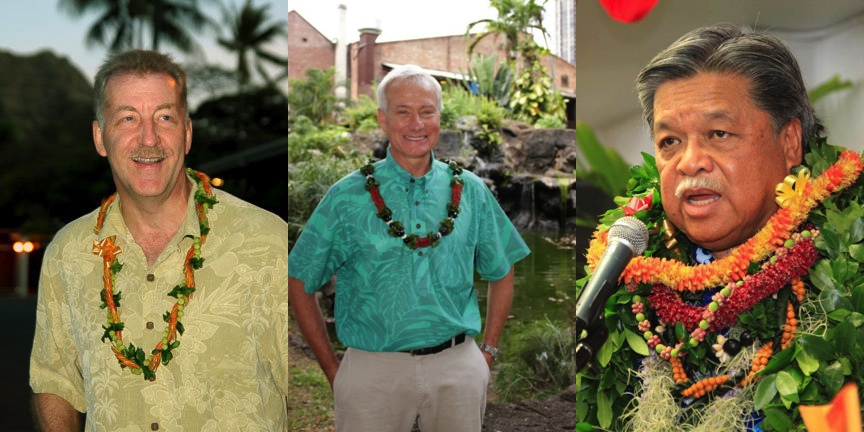 HONOLULU, HI (AUGUST 10, 2012) — Honolulu's next mayor has vowed to clear the way for more apps, greater access to government information, and stronger citizen engagement.
All three candidates — Mayor Peter Carlisle, former mayor Kirk Caldwell, and former governor Ben Cayetano — this week signed a pledge to support key principles of open government: transparency, participation, and collaboration.
For example, no matter what happens in tomorrow's primary, Honolulu residents should expect expanded access to public information in a "standard machine readable format." In other words, Honolulu's next mayor will continue to phase out closed and proprietary systems and formats, and make data available in ways that can be easily accessed, visualized, and even monetized.
That means more mobile apps, more web mashups, more online services, and ultimately, a more informed citizenry.
"With the rise of new technologies and an increasingly connected population, a growing pressure has been placed on government leaders and government entities to adopt these open government principles," reads the pledge, presented to all three candidates by GovFresh. "I will take steps to ensure Honolulu meets these demands and supports citizens' needs." (The full text of the pledge can be found at honolulu.govfresh.com.)
All three candidates affirmed their support of the pledge within hours of each other. Cayetano reviewed and approved it from his hospital bed after midnight on Tuesday morning.
"Governor Ben Cayetano supports the [GovFresh] pledge," said his online campaign manager Peter Kay. "Honolulu is ready for a 21st century government and the Governor will proudly lead us there."
Kay cited Act 10, which Cayetano signed in 1995 to create one of the nation's first electronic filing systems, as evidence of a long-time commitment to transparency and technology.
Mayor Carlisle, meanwhile, pointed to several initiatives launched under his administration, from setting up online portals for city information to engaging the developer and startup community via public hackathons. He noted that Honolulu is also one of eight cities included in the Code For America program, a national effort to improve government through the power of the web.
"Since taking office in October 2010, my administration has lived the Open Government ethos," Carlisle wrote in a statement to GovFresh. "It's not a campaign slogan or a bullet point on a city presentation — it is a philosophy I hold dear and have brought people into my administration that can make it happen."
Honolulu was named the nation's #1 Digital City by the Center for Digital Government and Government Technology.
"The unanimous support by our mayoral candidates of open government proves its undeniable momentum on both the national and local level," said Burt Lum, Executive Director of Hawaii Open Data, Inc., which helped GovFresh with the Honolulu pledge. "We're also gratified to garner the support of the Hawaii Community Foundation, which will empower us to push these initiatives forward, changing policy and creating opportunities for tomorrow's citizens and entrepreneurs."
Hawaii Open Data, Inc. was one of five organizations awarded grants this week in the third and final round of the HCF Island Innovation Fund. The fund was created to help Hawaii's nonprofit sector solve our community's most complex problems through innovative approaches.
About GovFresh
GovFresh was founded by Luke Fretwell in May 2009 and works to inspire government-citizen collaboration and build a more engaged democracy. We feature public servant innovators, civic entrepreneurs and the ideas and technology that are changing how government works. Its work has been recognized in Fast Company, Huffington Post, San Francisco Chronicle, TechPresident, among others. For more information, visit GovFresh.com.
About Hawaii Open Data
Hawaii Open Data, Inc. is a 501(c)3 public charitable organization dedicated to advancing the adoption of open data/API standards and the development of solutions capitalizing on open data in Hawaii. It was founded by long-time technologist Burt Lum, citizen journalist Ryan Ozawa, and new media hacker Jared Kuroiwa.
# # #
Contact:
Burt Lum
Executive Director, Hawaii Open Data, Inc.
(808) 295-5115
burt@hawaiiopendata.com
Luke Fretwell
Founder, GovFresh
(415) 722-8678
luke@govfresh.com